Heat vs Celtics: The Eastern Conference Finals will now be held in Boston, with the clubs tied 1-1. Despite winning three of the four quarters, the Celtics lost Game 1 of the Eastern Conference Finals to the Heat 118-107. The game, however, was lost in the third quarter. At halftime, the Celtics were up 62-54. The Heat came out in the third quarter with a physical approach. And being aggressive on both ends of the court, even when the Celtics began to play conservatively. Also, they lost their cool, and the Heat outscored the Celtics 39-14 in the first quarter. Despite a fourth-quarter comeback, the Celtics' lead was too great.
The Celtics were missing Smart and Horford in the opening game. It was also coming off a long game seven against the Bucks and having to travel to the well-rested Heat. For Game 2, Marcus Smart and Al Horford returned to the starting lineup. In the first quarter, the Celtics were down ten points. In the second quarter, they came back to take a 35-24 lead. They did lead by 25 points at halftime and never went back, winning 127-102.
The Heat was embarrassed by the Celtics, according to Jimmy Butler, and he promised not to let that happen again. The Heat will review a film and make tweaks, and the Celtics must be prepared to counter those adjustments. It includes their starting five intact and the rest of the roster in good condition. Regardless of the Heat's changes, the Celtics' defense may be too much. All the Celtics have to do is keep playing with passion, heart, and aggression.
Heat vs Celtics Game 3
On Thursday, Marcus Smart and Al Horford returned to the starting lineup and performed admirably. They should hopefully avoid any setbacks and be ready to play in this game. Sam Hauser will miss his sixth consecutive game due to a shoulder injury. Nick Stauskas seemed to suffer a lower leg injury in the waning minutes of Game 2 against the Heat. Stauskas left the game after only four minutes. With knee soreness, he is regarded as unstable. Robert Williams was added to the injury list later than expected. If he is unable to participate, Grant Williams should begin. Derrick White is expected to return for this game for the Celtics. Due to the birth of his first kid, he was unable to play in Game 2.
For the Heat,
Including a hamstring injury, Kyle Lowry has missed eight of the last ten games. He traveled to Boston with the squad, but his status for this game is currently unknown. PJ Tucker left Game 2 with a knee contusion after 22 minutes and have labeled as questionable. Including a hamstring injury, Kyle Lowry has missed eight of the last ten games. He's also labeled as questionable and has determined at game time. Due to hamstring problems, Gabe Vincent and Max Strus had classified as questionable for the third straight game. They played well in the other two games, and we expect them to do so in this one. If Tucker cannot play, Duncan Robinson or Markieff Morris will likely start in his stead.PJ Tucker left Game 2 with a knee contusion after 22 minutes and have labeled as questionable.
Starters for the Celtics
PG: Marcus Smart
SG: Jaylen Brown
SF: Jayson Tatum
PF: Grant Williams
C: Robert Williams III
Celtics Reserves
Payton Pritchard
Derrick White
Daniel Theis
Luke Kornet
Sam Hauser
Aaron Nesmith
Malik Fitts
Juwan Morgan
Nick Stauskas
Grant Williams
Injured players
Sam Hauser – out
Nick Stauskas – questionable
Robert Williams – questionable
Head Coach – Ime Udoka
Starters for the Heat
PG: Gabe Vincent
SG: Max Strus
SF: Jimmy Butler
PF: PJ Tucker
C: Bam Adebayo
Heat Reserves
Dewayne Dedmon
Udonis Haslem
Tyler Herro
Haywood Highsmith
Caleb Martin
Markieff Morris
Victor Oladipo
Duncan Robinson
Omer Yurtseven
Injured players
Kyle Lowry – questionable
PJ Tucker – questionable
Gabe Vincent – questionable
Max Strus – questionable
Head Coach – Erik Spoelstra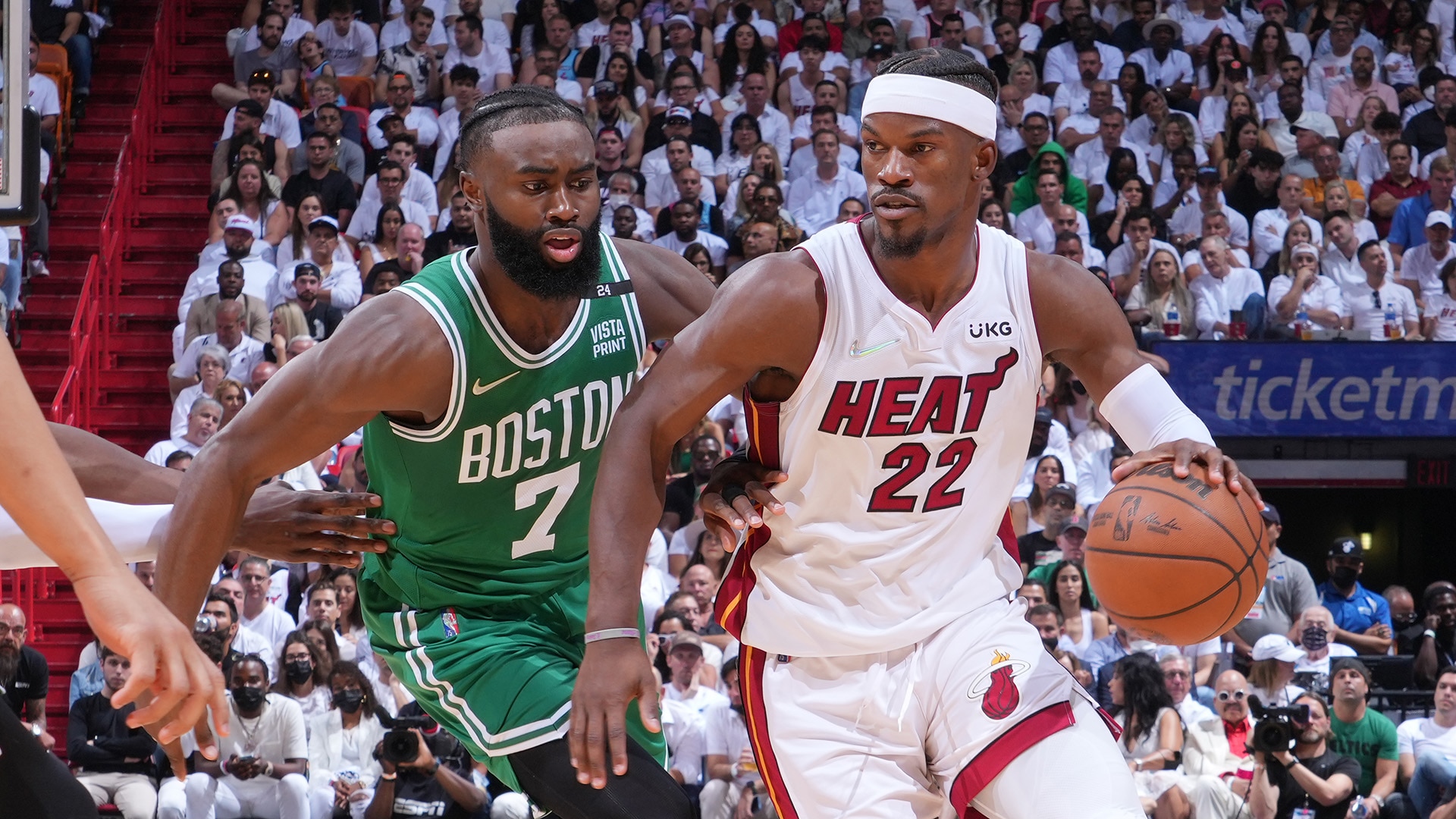 Heat vs Celtics Game 3 at TD Garden
At T.D. Garden tonight, the Celtics are six-point favorites against the Heat in Game 3. According to head coach Erik Spoelstra, Kyle Lowry and P.J. will warm up to play. Tucker was forced to leave Game 2 on Thursday due to a knee contusion. With a strained hamstring, Lowry has missed eight of the last ten Miami postseason games; when he plays, the Heat are 2-3. Robert Williams is questionable for Boston due to knee soreness. After failing to appear on the injury report.
Suppose Kyle Lowry is capable of playing and being an efficient playmaker. It might relieve a significant amount of pressure on Jimmy Butler on the offensive end.
"I have to do Kyle's job, make sure guys are in places to be comfortable and be their most successful," Butler said after the Game 2 blowout. That isn't on Spo. That's not on Bam, in my opinion. Because I have the ball a lot, I think it's my job to make sure everyone is comfortable with the shots they need." Butler had 70 points in two games, while the other Heat starters have only 74.
Moreover, another good perimeter defender, Derrick White, returns to the Celtics' rotation. Miami will once again face a Boston defense that is tiny primarily. In Game 3, it restricted them to 71 points after three quarters. Also, Miami is shooting just 31.3 percent from beyond the arc in the Eastern Conference Finals. The Nets and Bucks then combined to shoot an even poorer 26.5 percent in the playoffs at TD Garden.
Read more at OKBET: Heat vs Celtics: Prediction, Odds and Picks in game 3
Image Credit: www.nba.com
For more sports news updates, visit us at OKBET.